This Technical Bulletin(5th Edition November 2010), is aimed at those who own a Ford Small or Big Block Powered automobile with a Holley 3×2 (6V), Model 2300 Carburetor setup (Holley Lists 1673/1674; 2436/2437; 2497/2498/2499; 2867/2868; 2881/2882 & 3208/3208) on any of the following motors, including 260, 289, 302, BOSS302, 351C, 352, 390, 406, 427, 428, 429(385 Series), BOSS429 or Lincoln 430.
Here are five pics of my personal Joe Bunetic restored (Apr '03) 289 6V intake manifold with Holley List 2881/2882 carburetion….If it looks familiar, you may already know it for what it is, a Ford 289 Tri-Power with List 2881/2882 carbs!
Now if your tri-power looks similar, but it resides in a slightly different setting, have a peek at this graphic! If it looks familiar, then you probably know it for what it is, a diagram of the Ford Holley Big Block Tri-Power (Lists 2436/2437; 2497/2498/2499; or 3208s)! If you need some technical help with these
FORD 6V CARBURETION IDENIFICATION GUIDE
351C 6VFORD 366 NASCAR ENGINE PROGRAM
Tom Vaught
Bob Champion's 351C ,  The Cleveland 6V intake manifold. According to Tom Vaught, recently retired after 39 years as Ford Motor Company's Boosted Engine Design Engineer and former Holley Engineer on the design team responsible for the development of the Holley Carburetion for the Cleveland 366 6V intake manifold, this 6V carburetion program came about through Ford's 366 NASCAR Engine program where they built 500 366ci Cleveland motors with 6V intakes for NASCAR competition, only to have NASCAR disallow their use, causing Ford to physically destroy all the intakes. As apart of the Ford NASCAR 366 Engine program, Tom Vaught of Ford Motor Company (Holley Carburetors then) was a member of the design team that built the Holley 2300 6V carburetors for this special Ford project, using Holley 2300 vacuum secondary 6V carburetors.
During the testing, it was determined that the 1350cfm flow of all three carburetors was too much air and fuel for the Ford 366 program so these carburetors were sleeved for the Ford NASCAR 366 Program. After the comprehensive destruction of the 500 original motors, intakes and 1500 Holley carburetors, very few survived. The few in existence today were hiding on shelves and missed the actual Ford directed physical destruction. Recently, a single Holley Sleeved 6V carburetor was sold with one of the very few 4296V intake manifolds still hanging around. This intake manifold was an original which had remained in the care of Buddy Barr Castings in Los Angeles , being sold in late 2004 to a Ford collector in New Mexico. Below are several pictures of the original Holley Sleeved 6V carb which  belongs to Eric Hirengen of Farmington, New Mexico. This carburetor is an ultra rare piece. When Ford cancelled the Ford 366 NASCAR program, they decided to abandon the Holley 6V carburetors which they had Holley develop for them. Holley then offered them to GM and MOPAR. GM was not interested, but MOPAR was. These specific carburetors were then modified and converted from vacuum secondary to full mechanical in the form of Holley List 4782/4783s which MOPAR offered for competition uses thereafter.I run a set on Willys. They work exceptionally well. These carburetors were returned to their un-sleeved size of 1355cfm total for all three. Tom Vaught also indicated "that an engineer at Ford at one time had two complete sets of sleeved carbs for a 429SCJ 71 Mustang, one set on the car and a spare set, so there are more out out there" besides Eric's single carb. The sleeved carbs ran very well on the 429 Mustang. Here are several recent pictures by the author of a NOS 366 6V(Cleveland 6V) intake recently sent to Rick Walker of El Cajon, California (May '03) to set up the Mopar series SIXPAC Holley carbs for the customer…..pic#1, pic#2,  pic#3, pic#4, pic#5,  pic#6   and pic#7. Author's 429SCJ Tri-Power with MoparSixPac (Holly List 4782/4783) Carbs, Pete Sessler's Photo of a BOSS302 Tri-Power Intake, as well as a his very nice photo of a bare 351Cleveland Intake. Bob Sutton's 429SCJ Tri-power with a set of Mopar Six Pac Carbs. Very nice shot of Bob Sutton's custom made divorced choke for his 429 tri-power using the internal spring from a Mopar SixPac choke and the divorced choke housing from a 429 CJ Rochester 4MV setup which mounts to the intake manifold. Check out the Ford 429 version of the O"Brien Trucker's bitchin individual polished air cleaners for the Holley List 4782/4783 2300 3×2 carburetors.  Nice photos of of a '69 Plymouth 440Sixpac(PhotoA and PhotoB) at Rialto June 2000 taken by the author. Or for a nice photo of a FE Tri-Power! Here are two of Harris May's photos of two very nice FE tri-powers, including this Galaxie setup and his personal T-Bird setup. Very nice detail on Harris May's air cleaner photos for people looking to see an all original correct setup.
How about Santee California's Fuzzy Knights very nice 63 1/2 Falcon Ranchero with original 260 V-8, 4 spd and Ford Factory260 6V with the very rare
260 Holley List 2667/2668 carbs restored by Rick Walker of El Cajon, Ca.
Ford accelerator linkage technical help…..here are 20 links with jpegs of various Ford Shop Manual diagrams of linkage setups which may be of help when trying to re-install Ford 6V intakes when the original Ford 6V linkage connections are few and far between, plus a few diagrams on the intake manifold, emission control connections, road draft tube and air cleaner information for the Ford 6V setup…..Remember Ford Factory 6V Air Cleaners are the same for Windsor and FE 6V carburetion setups, although Fuzzy is not running the correct original Ford SBF 6V Top Plate.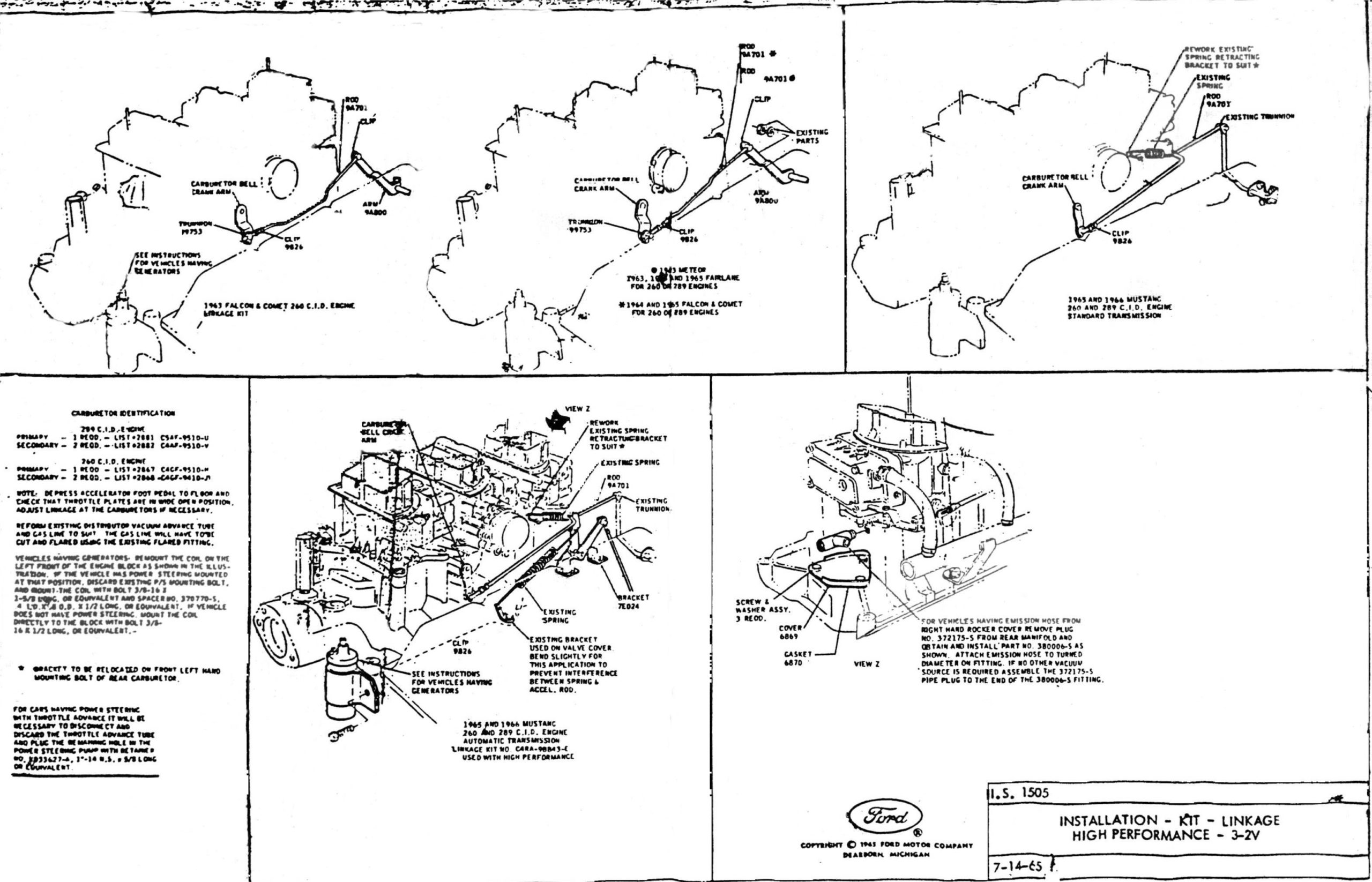 Ford Carburetion Firewall Linkage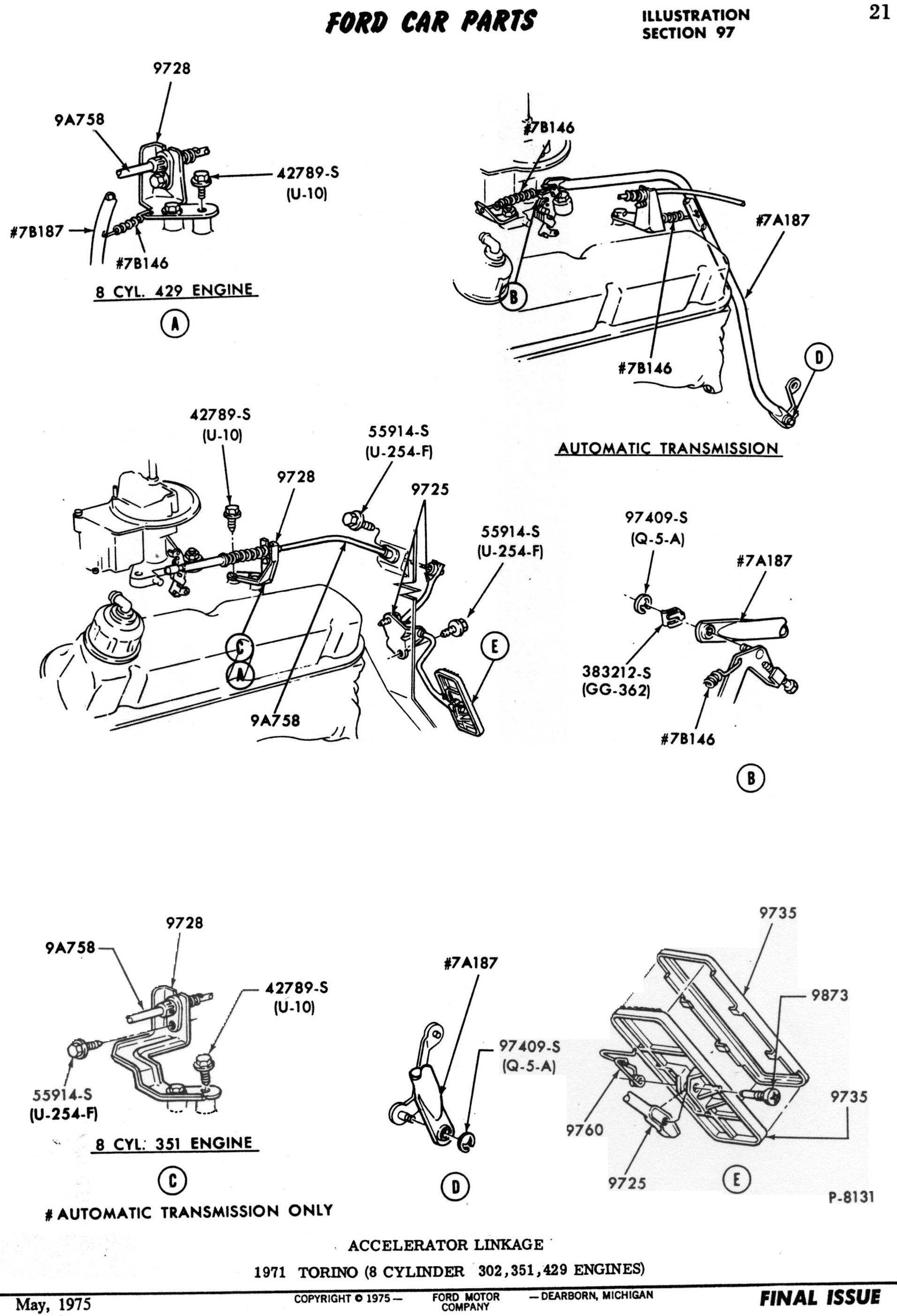 71 Torino Linkage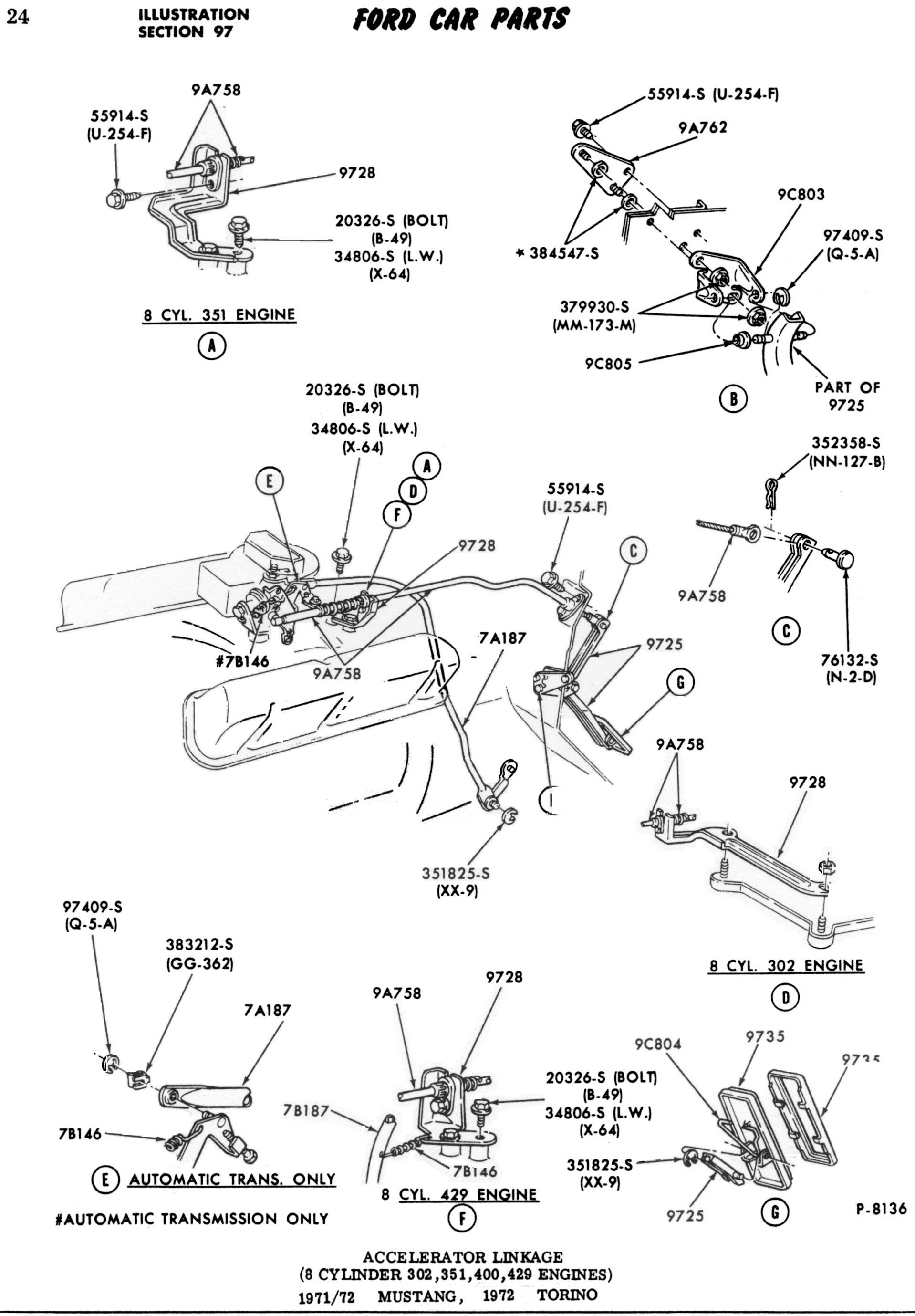 71/72 Mustang Linkage
Auto Trans Kickdown Linkage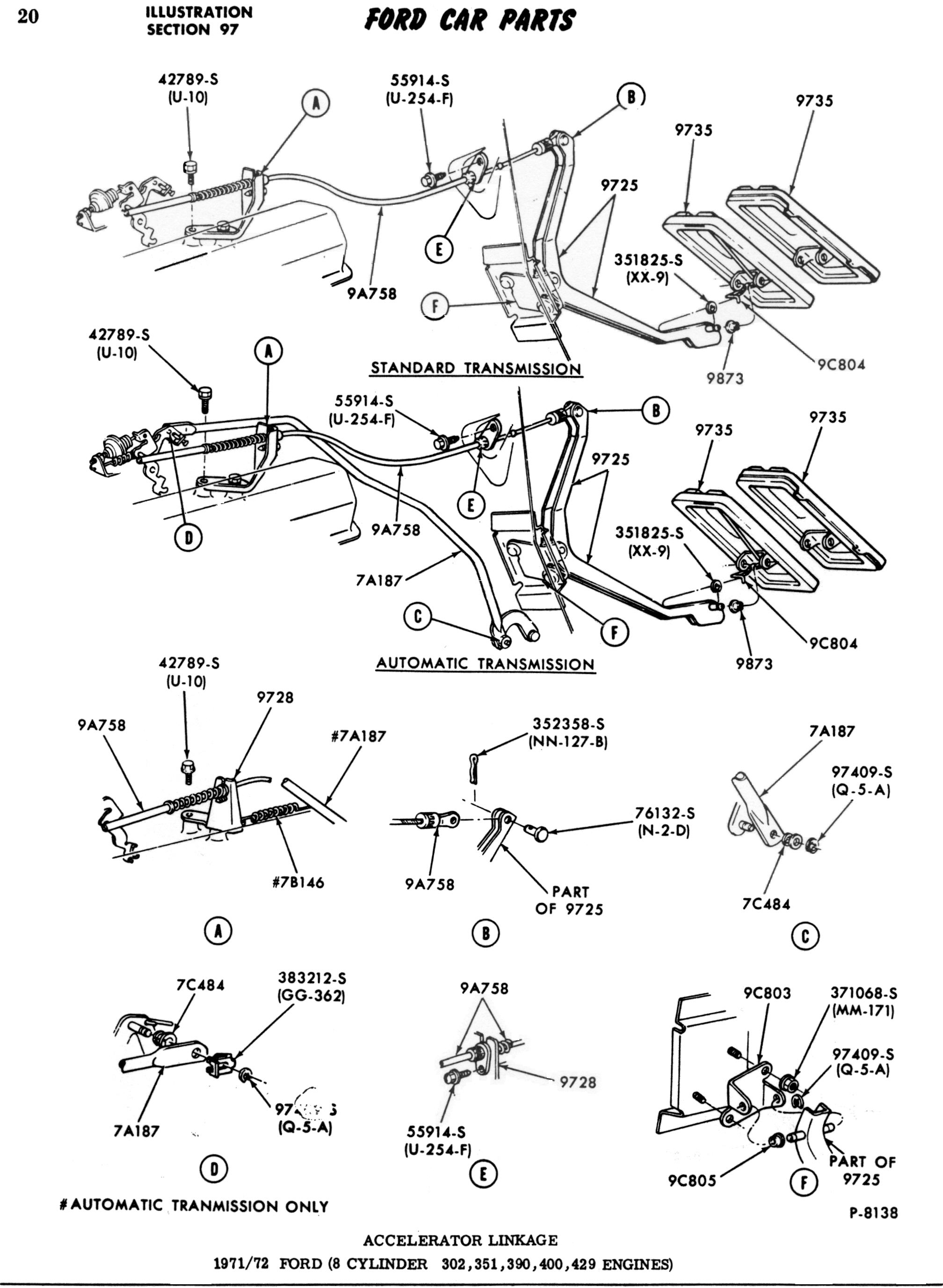 1971/72 Ford Linkage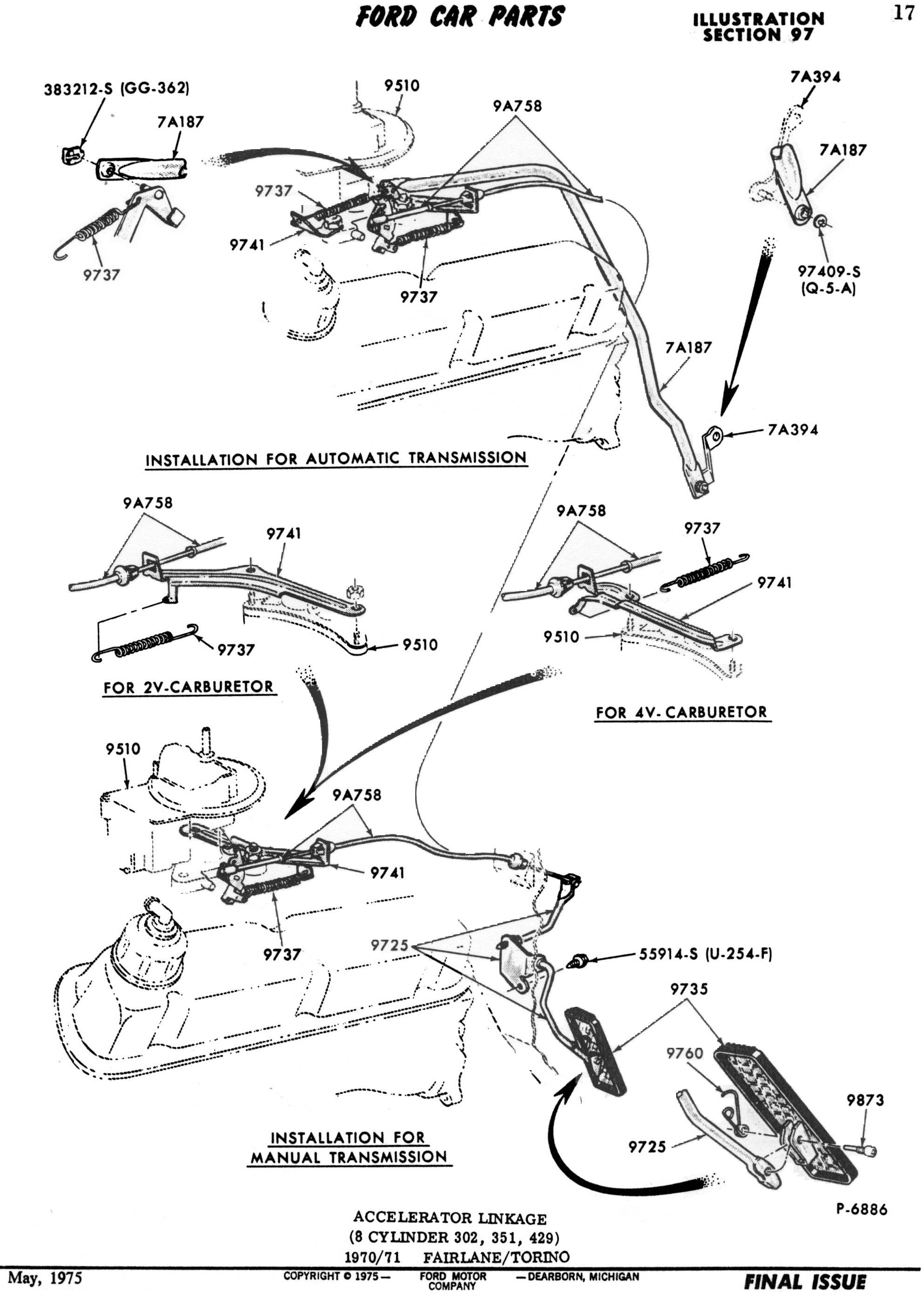 70/71 Fairlane/Torino Linkage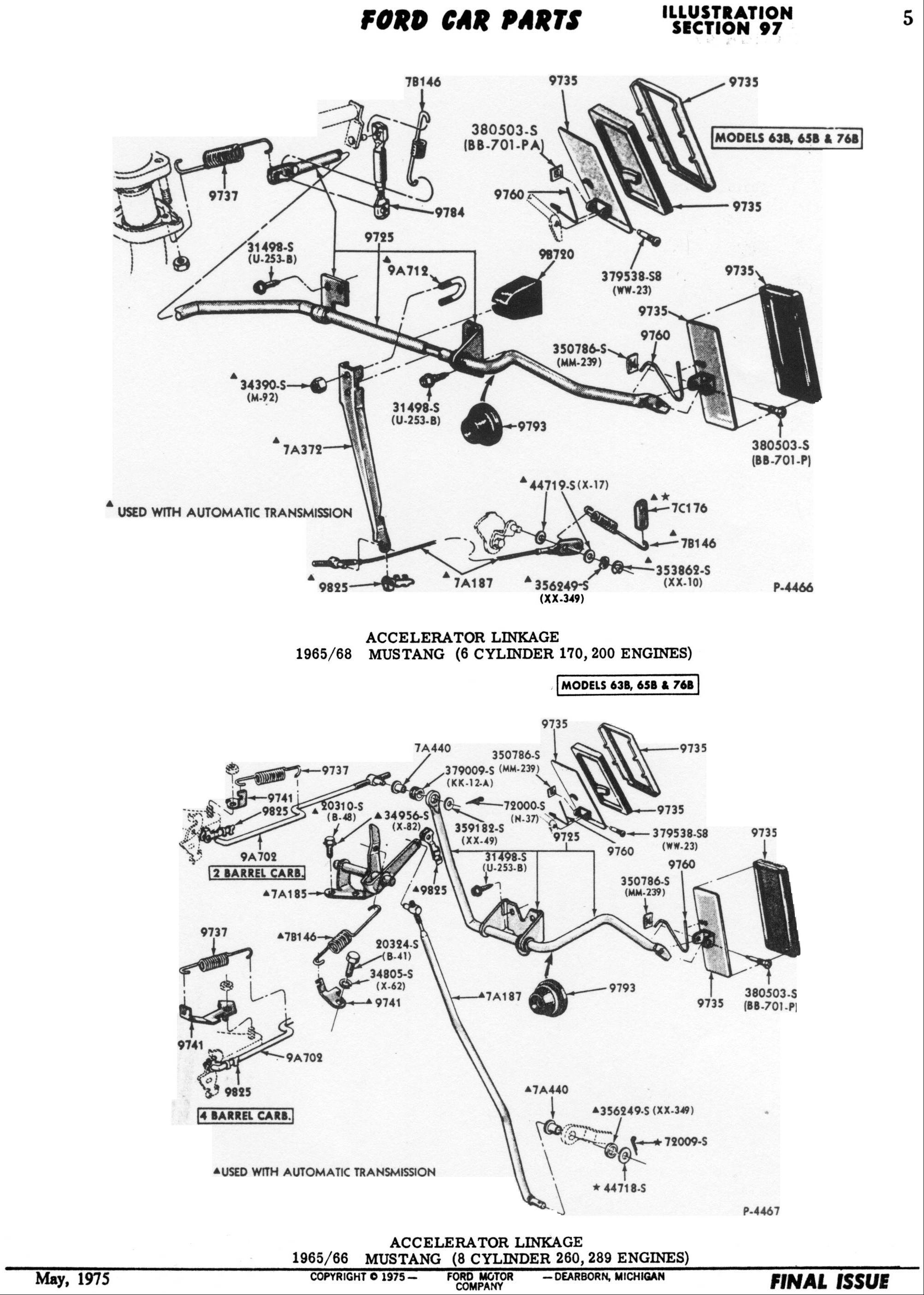 69/70 Mustang LInkage
66-70 Falcon Linkage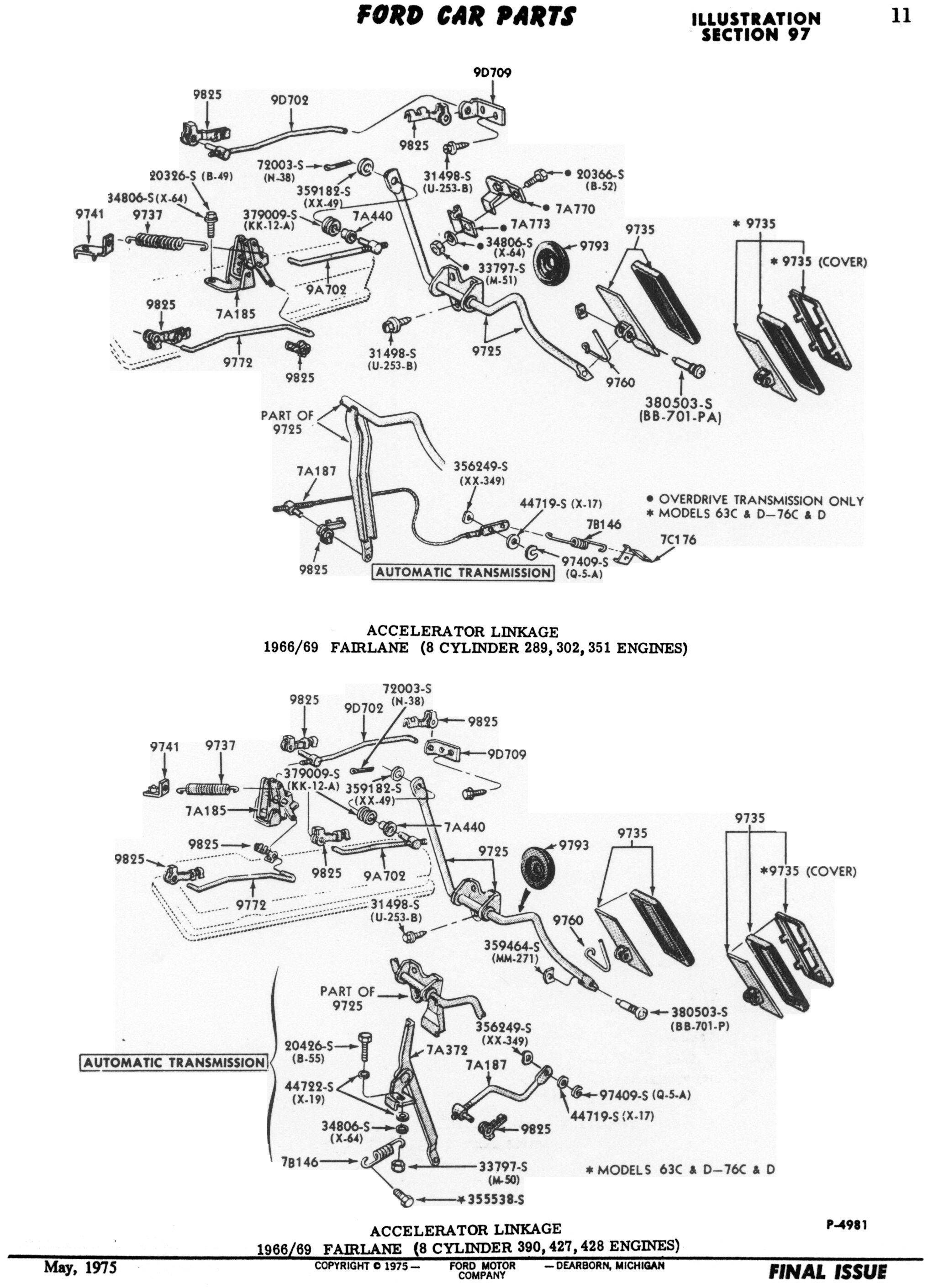 66-69 Fairlane Linkage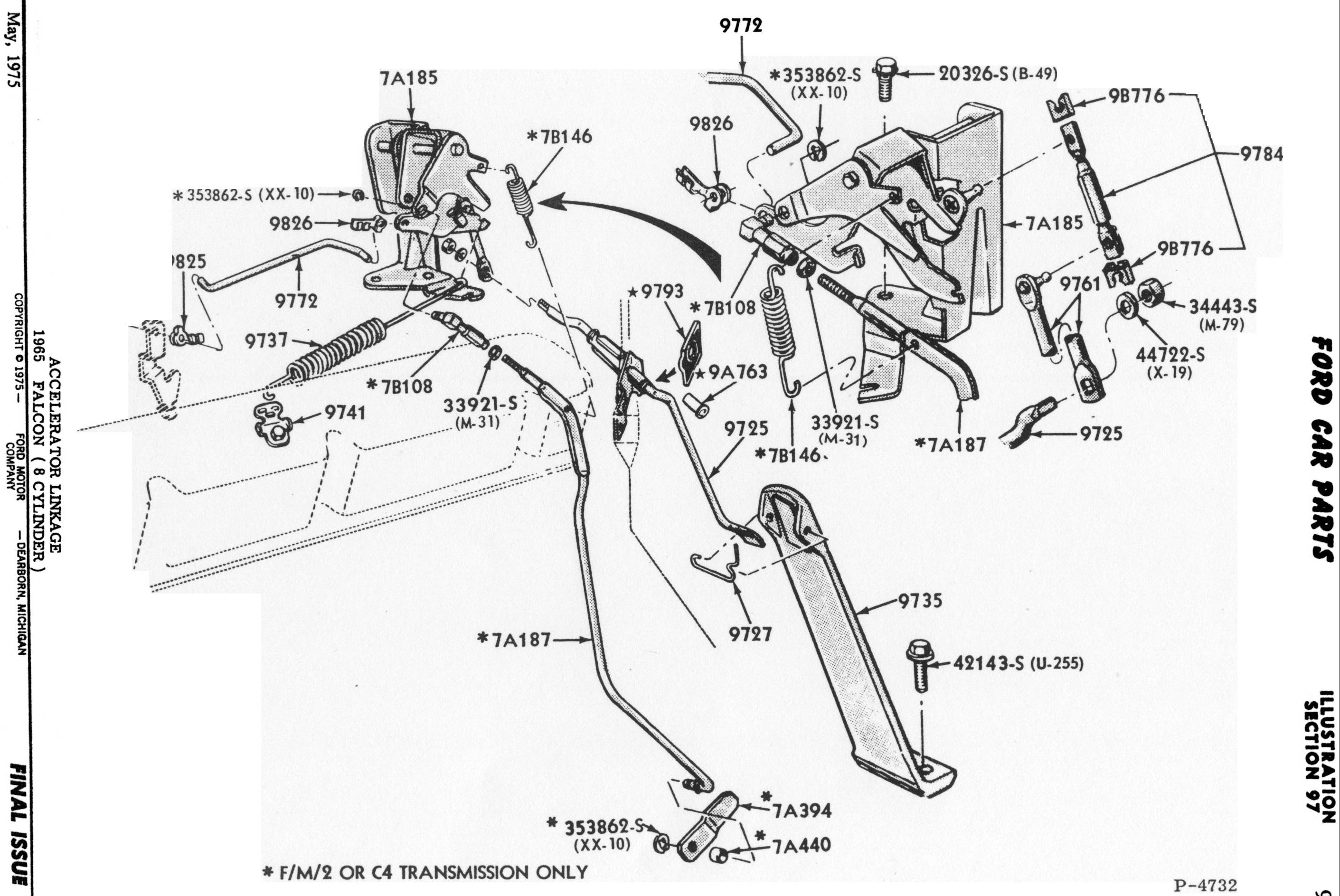 65 Falcon Linkage
65 Fairlane Linkage
65-70 Ford Emissions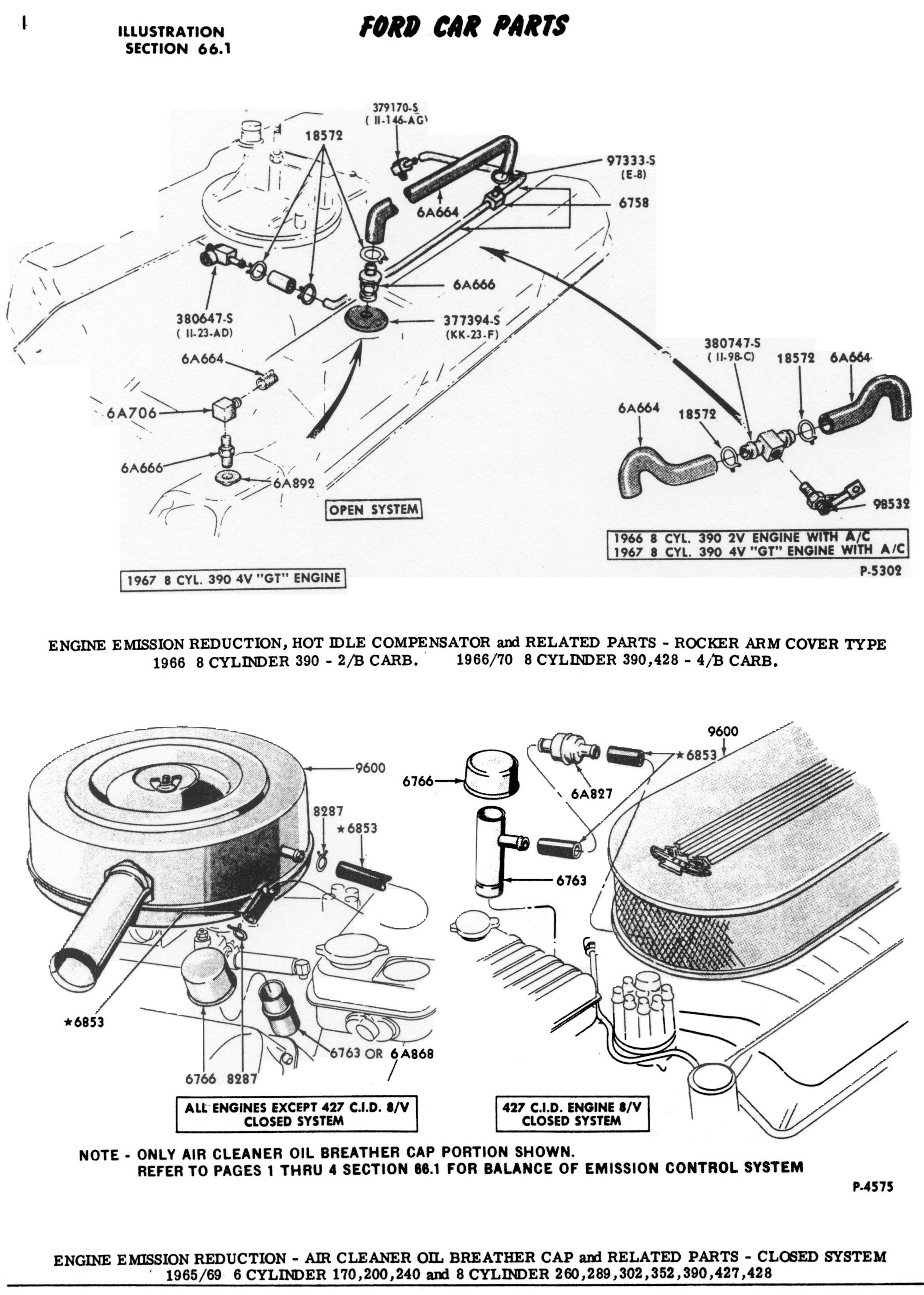 65-69 Emission module Ford 6V
Ford 427 8V Linkage
65-66 T-Bird Linkage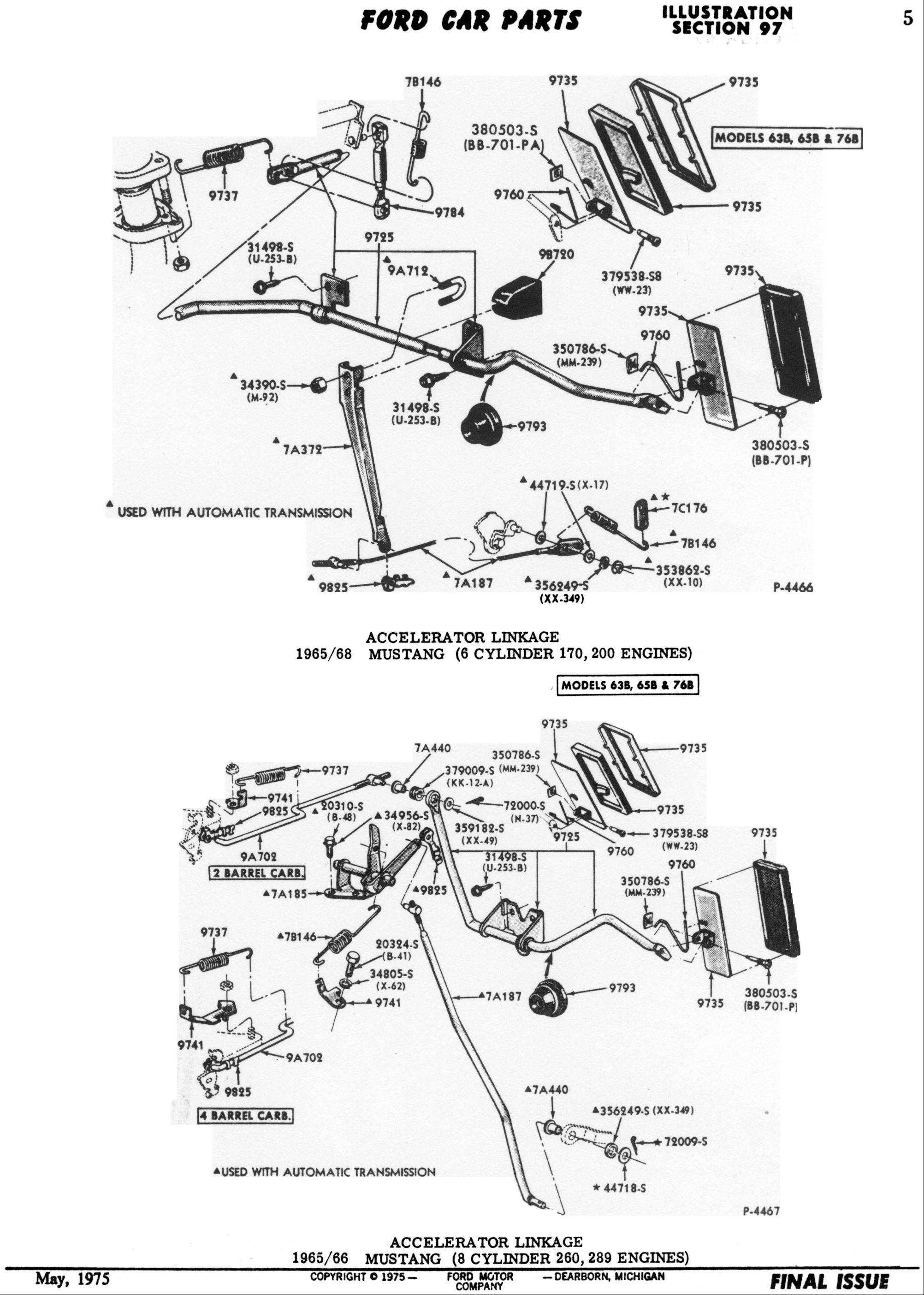 65/66 Mustang Linkage
62 Ford Road Draft Tube Diagram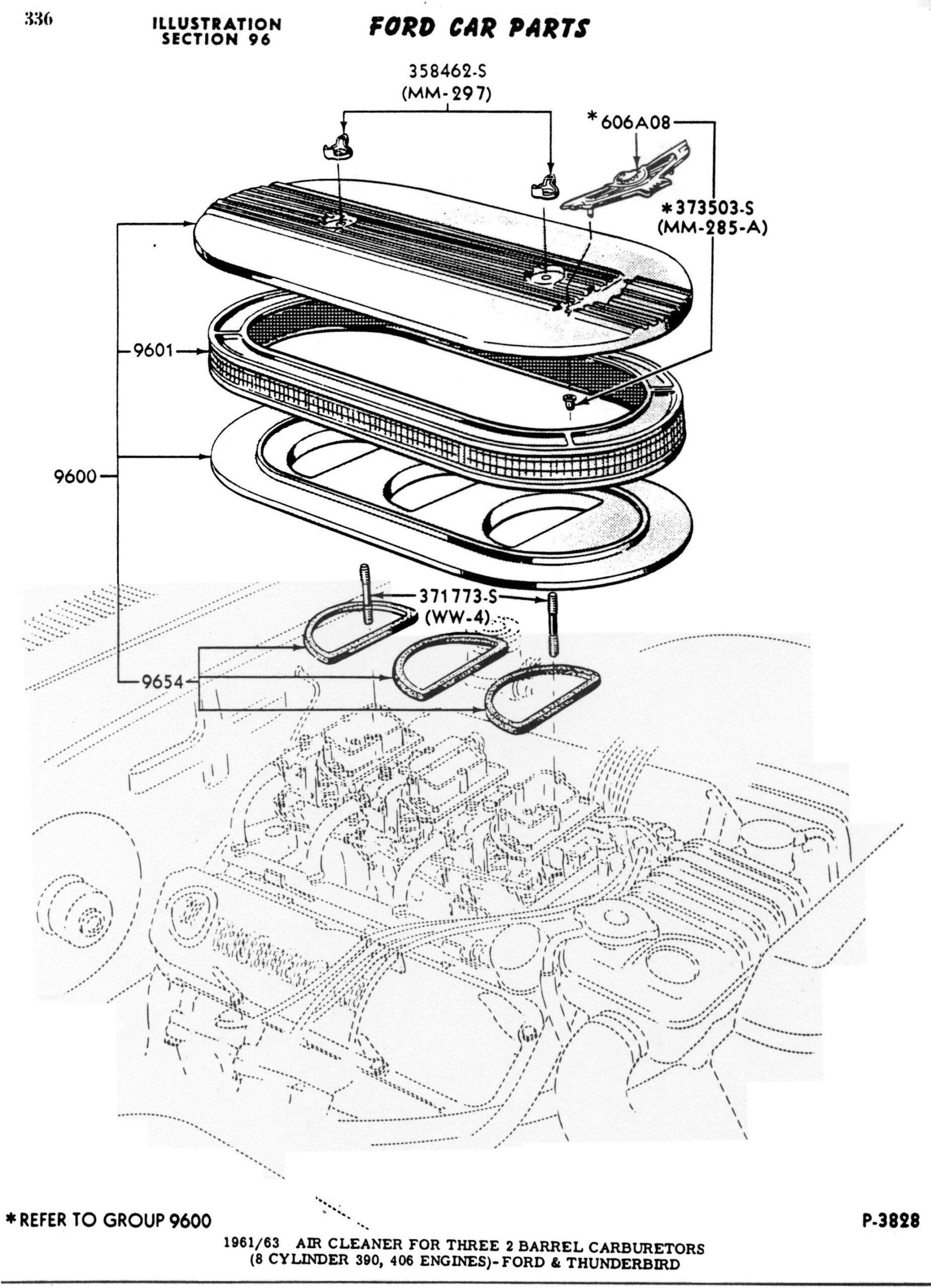 61-63 T-Bird 6V Air Cleaner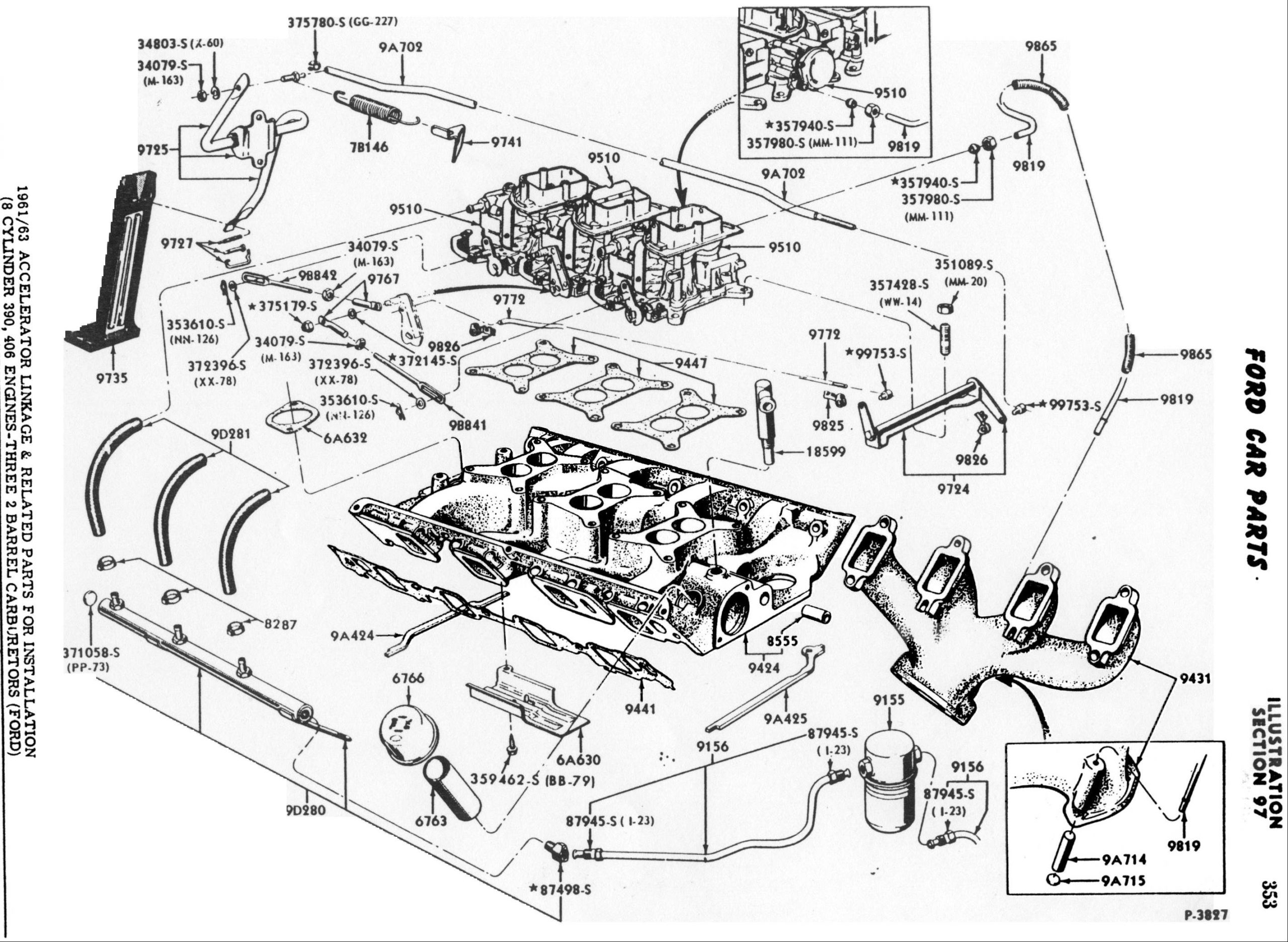 Ford T-Bird 6V Linkage
SBF Air Cleaner 6V Top Plate-Ford Windsor 260/289 6V Carburetion
Ford FE Galaxie Style 6V Top Plate-Picture Below, top plate on top
Ford Thunderbird FE Style 6V Top Plate-Picture above, top plate on the bottom with flag emblem